According to reports, City have sold a remarkable 30,000 Seasoncards (season tickets) for the 2009-10 season.
There are less than 50 seats available in the whole of the South Stand — just half a dozen in 117, 15 in 118, and 28 in 119. As you can see from the diagram below, there are vast areas of the ground that are completely booked. It is likely that the only tickets you will be able to buy in the lead up to matches will be up in the third tier.
For this reason, it is important for any Blues heading over to Manchester to check the earlier blog post
here
. There is a seat available for any Australian to use (Adz has already booked six games, congratulations sir).
Get in contact and I can sort you out with a spot. After all, it would be heartbreaking to travel all that way only to have to sit in the nosebleeds, or worse, miss out altogether...
UPDATE 05/07:
Over the last few days, the insatable demand for season tickets has continued. Since Wednesday, the South Stand has
completely
sold out. Blocks 127, 210, 221, and 230 are also completely occupied for the 2009-10 season.
It is a clear indication of just how far the club has progressed in just a couple of years. Prior to the 2007-08 season, renewals were at levels not seen since the lower division days. The club had just avoided relegation, and fans had just observed only ten goals in nineteen home games. But with the promise of superstars and trophies on the horizon, suddenly City are the hottest ticket in town.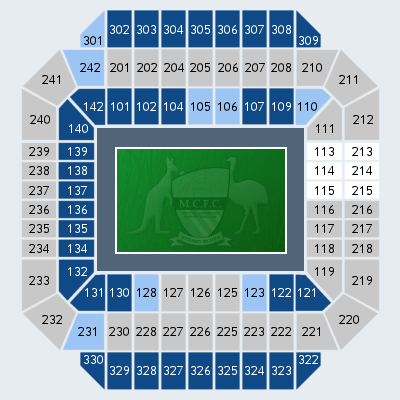 Note:

Light grey

means allocation exhausted,

blue

means very limited availability, and

navy

means plenty available.