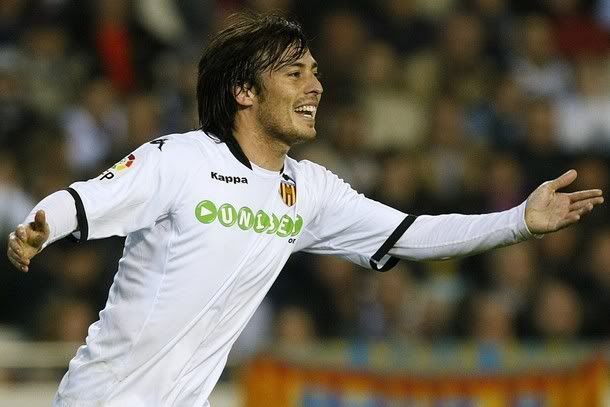 Wow.
With most of the world's attention on the World Cup (although not really for the football — mainly dodgy goals and vuvuzelas of course), I wasn't really anticipating new signings. There has been an awful amount of rumour surrounding Yaya Toure, which would have been the more understandable announcement with Cote d'Ivoire knocked out of the tournament.
However, we have signed a player still in the tournament, and with a great opportunity to add "World Cup winner" as well as "Manchester City player" to his resume. Welcome to the club
Lionel Messi
David Silva.
So much about this signing makes sense. Silva is just 24, and has already played at the highest levels for club and country. He's played in the Champs League with Valencia, and was part of the Spanish side that won Euro 2008. He can play as a winger or attacking midfielder, and gives us that creativity that we were so lacking in the latter half of last season.
He's been a long term target for Chelsea and less believably, Manchester United (yeah, and where would they get the funds to buy him?!)
For mine, this is as significant the acquisitions of Robinho and Tevez. Roberto Mancini said of the signing:
"I think that David Silva is one of the best midfielders in Europe, and I hope he will be a

very important

(well he would say that, wouldn't he?) player for Manchester City.

"I am so pleased he is coming to us, I think he can make a big, big impact for Manchester City. In signing David, we are showing the World that we are bringing the best players here and that we hope to compete to win the Premier League. When players see what is happening at Manchester City and the ambition they are attracted to what we are building and want to be a part of it.

"I hope he does very well for Spain in the World Cup and then joins us for our pre-season, ready to compete in the Premier League. I am very excited about seeing him playing for Manchester City."

And so are we, Roberto...