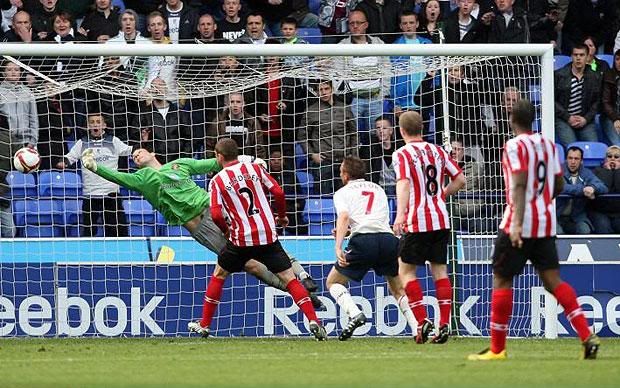 Always last here with the news at Lesson In Pride (I've been busy alright!), it was confirmed several days ago that Hungarian shot-stopper Martin Fulop has joined City on a temporary basis, and will presumably be between the sticks for the final three matches of the campaign.
According to reports, Martin was not our first choice, which is wholly understandable considering he's currently third-choice at Sunderland. City were originally looking at bringing in David James from Portsmouth or Joe Hart from Birmingham, before the interference from the FA.
With Champions League qualification on the line, it's not unreasonable to suggest that City would have be prepared to compensate the teams quite well. The lack of a suitable goalkeeper could easily be the difference between finishing fourth or fifth – and the millions of pounds that the lucrative competition would bring to the club. What sacrifice would be worthwhile? £1 million? £2 million? Even £5 million would be change under the couch cushions if it meant Champs League next season.
It's hard not to imagine any opposition team – outside of our direct competitors of course – refusing the idea of a quick buck. James from Portsmouth was an obvious one – with Pompey barely able to fill up the team bus, let alone assemble a decent squad, a few million would have been invaluable down Pompey way.
I'd also suggest that Birmingham would have been fairly keen to allow Hart to come back early – with adequate compensation of course. Alex McLeish as been bleating on all season about how good Hart has been, and it would be a travesty if we took him back at the end of the season and stuck him on the bench again. Well, a simple "if we can get Joe back for the rest of the season, we'll lend you him again next year" would have kept both parties well and truly happy.
But the FA, in all their infinite wisdom, would only veto the deal if we signed a player "from another league or was not currently first-choice". So we're allowed a loan, but only if he is deemed a little bit shit? You mean we can't even have our
own
player back?
So we've ended up with Martin Fulop, a man with more loans than the Commonwealth Bank. He's been out at Chesterfield, Coventry, Sunderland, Leicester, and Stoke, before arriving at City for a short spell. It's safe to say he'll be better than young Gunnar Nielsen, and our usual backup, Stuart Taylor, but he doesn't inspire me with a whole lot of confidence – especially with fourth on the line.
I don't even think he was third preference for us – if Thomas Sorensen had not picked up an injury for Stoke on the weekend, we would have probably tried to bring in the highly-rated Asmir Begovic.
Alas, we can count ourselves fortunate that the FA afforded us any concession I suppose. But hopefully the club have learned from this, in making sure we have adequate back-up next season. Sorry Alex, but we might just hold on to Joe this time.