Shay Given's City career — if not his football career — is in extreme jeopardy after re-injuring his troublesome shoulder.
Given damaged the joint
carrying a bag of balls from the team coach to the training ground
during the warm-up for the Ropey League clash against Aris last week. The most pressing concern is that the joint was apparently under no real stress at the time of dislocation.
Given is expected to have a third operation to cure the persistent dislocations, however there is a chance that it would severely limit mobility in the joint, and could mean that Given may have no option but to retire.


As someone who has had frequent shoulder concerns over the years myself, from experience, Shay will have trouble regaining the confidence to have absolute trust in the joint.
But it seems that either City, or Given, or both, knew that there has been trouble for a while.
At the start of the season, Shay was seemingly desperate for a move.
Arsenal
,
Fulham
,
Newcastle
,
Celtic
, and even
Roma
were all mooted as potential destinations for the ROI shot-stopper. However, none of these came to fruition, and Given would "fight for his place" until January, and pick up the odd game here or there.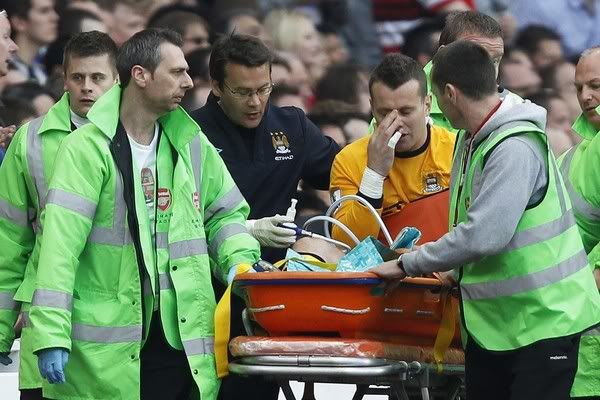 Was this Shay Given's last contribution to the Premier League?
However, once the January window opened, things started to get cold (as they usually do when you leave a window open in winter I suppose). There was a suggestion that Given could drop down to the Championship to get games, but the most likely deal seemed to be an emergency loan to Blackpool (who only have the underwhelming Richard Kingson to choose from), but that didn't transpire either.
In the space of five months, Given has gone from being the hottest property on the transfer market, to a gamble only willing to be taken upon by a relegation-threatened team with one fit keeper. Something just doesn't add up.
Whilst there's no doubt that our current number one (or rather, twenty-five) is the best option we have at this moment in time (and for the next ten years to come), it would be grossly unfair for the career of a talented keeper to end on the back of three Ropey League and a Care-less Cup appearance this season.