It's all well and good to be flippant, ironic, or even some occasions funny (well we try) about City — because let's face it, football is just a game, even if Bill
Shankly
may assert otherwise.
However, this is Derby Day. This is what being a Manchester City fan is all about.
Whilst avoiding the obvious allegations of being "bitter" and "obsessed", as a Blue, this is the first match I look out for when the fixtures are released. Playing United is the biggest game of any season — but especially this one, considering that it now true meaning in the context of both
United's
and City's season.
For what is football without its rivalries? The tribalism of your teams' colours as congregate for the away game (or black if you're a United fan *wink*), the

frisson

one experiences with a hint of danger in the air, as you gesture to the other fans as you make your way down

Platt

Lane

George Street on a Saturday afternoon. You know a fight might just kick off at any moment, and you know you're better than them because of who you support, and they are weak scum, because of who they support. It's a

Lesson In Pride

, if you will.
But as for the day itself, I hate it and hate it in equal measures. The result is amplified: wins are orgasmic, defeats are crushing, while draws just infuriate.
In his Derby preview, Roberto Mancini loves it. The nutter.
"I like to play this game. I like to play at Old
Trafford
because it is better to win there than at home" commented Mancini.
"Because when you win away in a derby it is more important for our head and our personality."
"It is a derby and an important game — one team top of the table and one team third. Every game is difficult. Nobody thought United would lose against Wolves."
"But this is a football." Wise words indeed.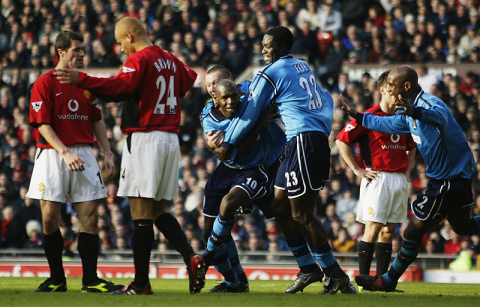 If fed, will score.
As for the teams, despite our
assertions
that the would be fit for the match, it really does seem that Rio Ferdinand will be out for this match, with Chris Smalling the underwhelming replacement at centre-half.
Javier "Chicken
Tikka
" Hernandez is unlikely to be involved as his transatlantic flight after international duty only landed on Friday, although he'll probably come of the bench and pop-up with a 90+6' winner.
Manchester City forward Mario
Balotelli
is battling to recover from the knee injury that has kept him out, but even if fully-fit, this is not a match I would play him in. Not only because he's first up after a spell, but also I think he would be goaded into doing something daft by
United's
persistent
fouling.
Nigel
de
Jong
will not be fit to play as he struggles to overcome an ankle injury. And this is the most
important
out — probably bigger than that of Ferdinand for United. For mine, I don't think we keep a clean sheet (and hence, pick up a result) without him.
I'd expect Roberto to pick pretty much the same XI that dismissed West
Brom
3-0.
Aleks
Kolarov
in midfield was a revelation last match, and along with Pablo
Zabaleta
would provide ample defensive cover against The Smooth Criminal on the left side of the pitch.
Carlos
Tevez
, with his bulldog-like approach, will most likely start up front on his lonesome, to a chorus of boos from the
travelling
United fans.
If (and it's a big if) we take the game to United early, I reckon we can get a result. Not a
Nostradamus
-like prediction by any means, but that's about as confident a statement I can make. They won't sit back and defend.
And that might well help City, who have taken a few teams apart on the break this season. And aside from a few Mark Hughes-
esque
defensive performances, we've been strong at the back.
But if Don Roberto reverts to his big-game tactic of safety first like he did against Arsenal, then this could be the longest ninety ninety-six minutes of our lives.
Obligatory mention: don't forget to click this link and vote for Matt Coleman (

Crouchy

) in the

Etihad

Coming Home competition. Because it's important. But this is a football.