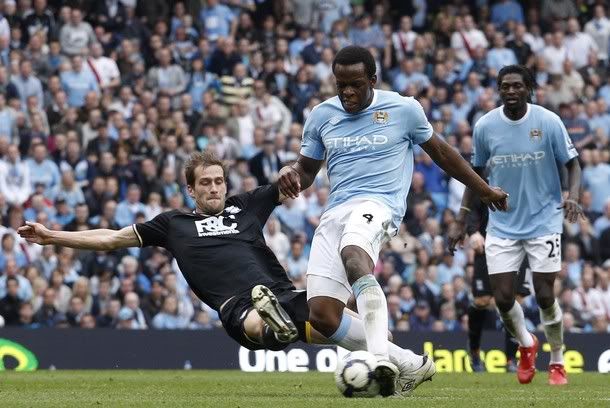 According to reports
, Nedum Onuoha will join Sunderland on loan for the 2010-11 season. I think that this is an excellent piece of business for everyone involved.
Nedum will get the consistent Premier League game-time he needs to improve his confidence, which is something that he wouldn't get here, behind the likes of Toure, Lescott, Kompany, Richards, Boateng, and maybe even Boyata at centre-half. But if he goes and shows marked improvement, he can slot back into the 25-man squad, or if not, then he can stay at Sunderland.
It is a little disappointing to see him depart though. Nedum is a life-long fan of City, and currently the longest serving player at the club — he's our Bryan Riggs (spit) or Gary Chuckle (double spit). Although, unlike the forementioned players, he's very smart and articulate, and it's refreshing to see a player interviewed without giving a slew of "errs" and "yerknows"...
But in this case it may have worked against him. His cards were marked after
this interview on Soccer AM
, where he was less than complimentary to Roberto Mancini.
Regardless, I had included Onuoha as part of our 25-man squad, so this will free up a spot for another player. I have the feeling now that Jo, on the back of a very good pre-season in which he scored almost every time he played, will now force his way into the manager's plans — something that would have been considered impossible a month ago!
All the best Ned, and it'd be great to see you back next season.