Craig Bellamy has been left out of the 25-man squad to play in the Europa League qualifier against Romanian side FC Timosoara, on 19 and 26 August.
The full squad is as follows:
Given, Hart, Taylor, Richards, Boateng, Zabaleta, Kolo Toure, Lescott, Logan, Bridge, Kolarov, Wright-Phillips, Adam Johnson, Yaya Toure, Michael Johnson, Barry, Vieira, Kompany, De Jong, Silva, Adebayor, Robinho, Santa Cruz, Tevez, Jo.

The squad conditions for the Europa League are even more confusing than the Premier League ones. Each team can consist of 25 players - eight of which must be "locally trained". These locally trained players must have spent three years between the age of 15 and 21 at an academy system at and English club.
Out of these eight, a minimum of four must have been trained by Manchester City, which is why outsiders such as Shaleum Logan and Michael Johnson appear in this squad, despite the latter not due to return from injury until December. Also, this squad does not require us to name players under 21, such as Vladimir Weiss or Alex Nimely.
This squad had to be submitted to UEFA by 9 August for the play-off round, and if we successfully advance, we will choose another squad (before 1 September) that will serve as our Europa League squad for the length of the competition.
However, it's highly unlikely that Bellamy would have been a constant feature in our European campaign regardless of his relationship with the manager. With his injury record and dodgy knees, he finds it extremely difficult to play two games in a week at the best of times.
Having said that, if Bellamy wants to remain at the club, he's not going about things the right way. He's been quoted in the media a few times this week, speaking out about how he has no contact with Mancini, and how he might leave the club should he not be selected in the final 25. Retirement's even been suggested.
"I feel strongly that I can offer something at the club. But if I don't get in the 25-man squad, I don't know what I will do. I might finish, full stop, or look at every option I get."

"This game is as ruthless as any. I sort of feel I am not going to be part of it (at Manchester City). I can see it from a distance. I find that very difficult to take because I really enjoy playing for Manchester City. I think I have shown that with my commitment this year."

"I've had a few options. I've turned down Wolfsburg. I don't fancy Germany, it's not somewhere I see myself playing football. I have to see what options I have. I am here to play football."

"With this 25-man ruling, it doesn't matter how well I train or how good my attitude is, I might not be registered to play. So do I go without playing football until January, or do I find myself a club where I can play football?"

"I am committed to stay where I am. I feel I deserve to be part of it, but I don't pick the 25 or the team. I have to wait on their decision."
Rather than knuckling down and proving to the manager just how good a player he is, and making it impossible for him to be left out of the squad — Bellamy all but wants out. And it has the stench of a Redknapp-tap-up all over it...
Does it come as any surprise that a player, who famously fell out with Newcastle, Liverpool, and West Ham, is now on the outer at City? I, like a lot of City fans, thought that Bellamy had realised that this was his last chance to really achieve something in the game, his last real big club.
Once Mark Hughes was moved on however, Craig reverted to type. He was
seen to take David Moyes' side
in his spat with Roberto Mancini, and perhaps the final straw,
that

handshake
with Harry Redknapp after Tottenham knocked us out of Champions League contention.
And just like the battles between Hughes and Elano — if there's a bust-up between a player and a manager, there is usually only one outcome.
We'll only truly know until the Spurs match on Saturday what the future holds for Bellamy. If he's left out of the starting 17 at White Hart Lane, we may well have seen the last of Bellers in a blue shirt.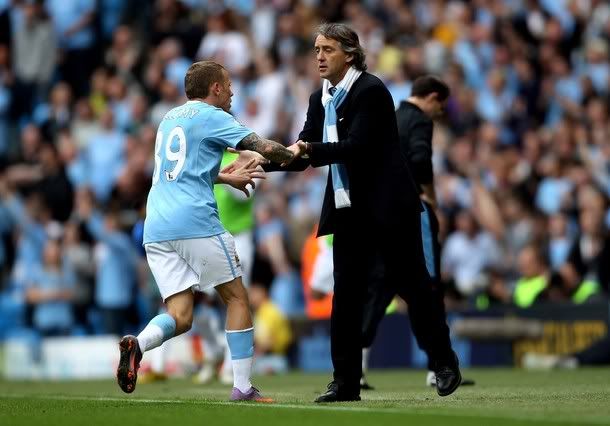 Mancini and Bellamy in happier times — can they repair their fractured relationship for the betterment of the team?