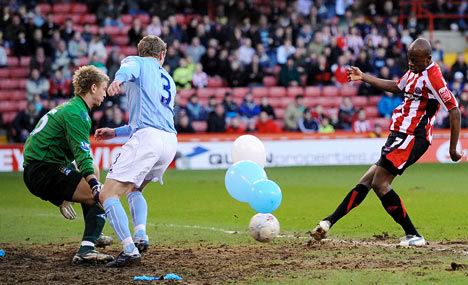 Roberto Mancini has a few tough decisions to make over the coming weeks about the composition of the 25 man Premier League squad. But probably his toughest dilemma is managing our goalkeeping situation.
And with
reports that

Sunderland
have officially approached the club about loaning Hart for the season (it's somewhat fitting that they're looking for us to help them out with a goalkeeper crisis, after they were kind enough to let
Marton
Fulop
come to City on emergency loan), it seems this problem is about to come to a head.
The manager already appears to have made his mind up. The fact that the squad list has Shay Given as number 1 and Joe Hart wearing the number 25 shirt probably gives a clear indication of his intentions.
There is no doubt about his
Given's
ability as a shot-stopper, where he is possibly second only to Pepe Reina at Liverpool. Some of his reflex saves over the years have defied belief. Who could forget his debut against
Middlesbrough
, where he denied
Afonso
Alves
on four separate occasions? Or his heroics in the home win over Chelsea?
However, Shay has his shortcomings. He's 34, whilst still in good form, is nearing the end of his career (although,
Schwarzer
is attracting the interests of Arsenal at 37 years of age, and Van Der
Sar
at Vermin Towers is old even by Rag standards, nearing 40). Also, he has just returned from the dislocated shoulder suffered against Arsenal, and for a keeper, that's a fairly serious injury – both physically and mentally.
The most frustrating thing about Shay's game is his unwillingness to come out for crosses, even those only a couple of yards off his goal line. This led result in us conceding some pretty preventable goals last season, namely the Carling Cup semi and the FA Cup tie against Stoke – which is often followed by his trademark vaudevillian-fall-to-the-ground-in-disbelief routine.
And then you have Hart, who was named by his peers as the best goalkeeper in the league last season, all the while behind a defense he had never played with previously.
There is a possibility that if selected, he could be our first-choice keeper for the next decade, much like Given himself was at Newcastle. And of course, Joe is no stranger to the fight for the number 1 shirt — at the beginning of the 2007-08 season, he was Sven's third choice keeper, with Kasper
Schmeichel
and Andreas
Isaksson
the preferred options.
So does Roberto stick with the proven option in Given, or the long-term option in Hart? For me, it's Shay, but only just.
Looking at the long-term, and blooding youngsters used to be a successful policy for City. Many of our academy graduates, such as Micah Richards, Joey Barton, Stephen Ireland, and Michael Johnson, all got an extended run in the first team before they were ready – although it could be argued that they were thrown into the deep end because we simply had nobody else! However, things have changed since the Pearce days, and we can no longer afford this option.
If we are serious about challenging for Champions League qualification, or dare I say, the League, we need to have the best XI on the field, regardless of age. It doesn't matter if that player is 19, like potential signing Mario
Balotelli
, or 34 like Uncle Pat
Vieira
. This is precisely why Bryan
Riggs
and Paul
Scholes
, at the combined age of 84, are still playing week-in, week-out for the Rags.
Hopefully, there will be no reason to sell or loan either player, with Hart in goals in the Europa League and Cup competitions, and Given to focus on the League. However, Hart has so far indicated that he is not prepared to sit on the bench, and another loan may be the best option for all parties.