Rumours have been circulating for weeks, and apparently have been confirmed as truth —
Stephen Ireland wants out
of Manchester City.
It's an astounding fall from grace for "Superman", who this time last year was being hailed as the long-term future of the club after a season in which he was undoubtedly our best player in Blue. However, in the twelve months since, the Emerald Prince's crown has slipped.
He's always been a character, has Stevie. And by "character", I mean "total whack-job".
There's been his
hair
. His
aquarium
. His taste in
cars
. His taste in
cars
again. His
Bebo
faux-pas. His
lack-of-hair
this time. His
lost iPod
. His
training regime
. His
tattoos
. And of course, his
dead grandmother
(or both). What goes on inside that head of Ireland's sometimes is anybody's guess.
In his early playing days, under Pearce especially (but also games under Sven), he looked like a little boy lost. Stuck out on the wing sometimes, but even when in his preferred position in the hole, Ireland failed to deliver, and quickly became a target for the boo-boys — all this despite many players saying that he was the "most skillful player they'd played with". When rumours of a potential move to Sunderland at the beginning of the 2008-09 campaign surfaced, the common feeling amongst fans was "I'll drive him there myself".
Then suddenly, Stevie got good.
In a somewhat ordinary season (takeover aside, considering how much money we spent), Ireland provided most of the highlights. The pin-point pass to set up Shaun Wright-Phillips in his re-debut against Sunderland — the team he was all but nailed on to join. His lung-busting runs to set up Felipe Caicedo twice against Hull in a game he dominated single-handedly, as well as similar efforts against Hamburg away and Everton, in both of which he was the beneficiary of Robinho's trickery.
I'm not sure whether it was the change of system employed by Hughes at the start of last season, or the excessive amount of training he did in the off-season, or the end of that telepathic relationship he had with Robinho, but right from the start, you could tell something was not right.
Sure, he's had dizzy spells and injuries this season, as well as not being able to play in his preferred position, but that really doesn't explain just how badly Ireland has played when he has been able to take the field. His effort and stamina — two of the major positives in his game the season before last — were nowhere to be seen as he allowed a man twelve years his senior who had played 80 more minutes in the match to ghost past him and score the winner (yes we are talking about the Ginger Pig in the Derby, sorry to bring it up).
So now, instead of fighting for his place, Stevie has decided to throw in the towel. Maybe a new manager will get the best out of Stevie, but he's had four different ones so far at City and put in one season of solid performance.
Just like his partner in crime, Robinho, it's hard to believe that a player can go from such heights to such despairing lows in such a short period of time.

I hope Ireland gets back to playing some decent footy — but I just can't see it happening in a blue shirt. If at all.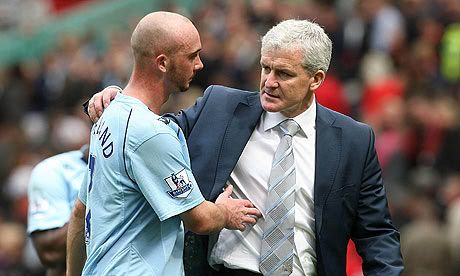 The Emerald Prince being substituted before a rousing reception in the last game of the 2008-09 season v Bolton. Where did it go wrong?